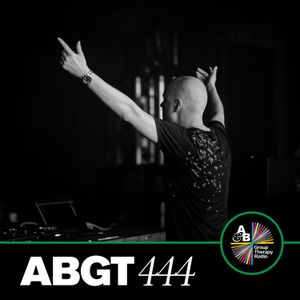 Group Therapy Radio 444 with Above & Beyond
30 July 2021
Guestmix:
Öona Dahl
Time:
Click
here
to find out when the show starts in your time zone.
Streams:
Digitally Imported Radio - Clubsounds Channel
YouTube live-stream
here.
---
Tracklist
01. Super8 & Tab feat. Julie Thompson - My Enemy (Super8 & Tab 2021 Mix)
02. Sultan + Shepard feat. Fractures - All That Remains (GVN Remix)
03. ilan Bluestone feat. Giuseppe De Luca - What Do You Want From Me?
04. Above & Beyond feat. Richard Bedford - On My Way To Heaven (Nox Vahn Remix)
[Record Of The Week]
05. Shadow Child - Sun
06. CRi - No Mission
07. K-MRK & Harry Diamond - Inner Ghosts
08. Franky Wah feat. AETHO - Should Have Seen It Coming (Yotto Remix)
09. Sultan + Shepard - nCTRL (Lane 8 Remix)
10. Marsh - Innocence
11. Pretty Pink feat. Gracie Thunder - Echo (Jody Wisternoff Remix)
12. Nora En Pure feat. Liz Cass - Won't Leave Your Side
13. VER:WEST - Elements Of A New Life
14. Genix & Northling - Take Our Time
[Push The Button]
15. Angara - Kyoto
16. Ferry Corsten - Lemme Take You
17. Chris Giuliano feat. Natalie Major - Running With The Wind
18. Tritonal feat. Cristina Soto - Still With Me (Elevven Remix)
19. Above & Beyond feat. Zoë Johnston - You Got To Go
[Flashback]Öona Dahl Guestmix
01. Spooky - Orange Coloured Liquid
02. Alex Burkat, Wild & Free - Magic Gardens
03. Trance Wax - Eve (808 State Remix)
04. Rennie Foster - Korilion (Jamie Anderson Remix)
05. Mall Grab - Positive Energy Forever
06. Kasper Marott - My Space
07. Longhair - Ja Wie
08. Öona Dahl - ID
---
Listen
https://www.mixcloud.com/aboveandbeyond/group-therapy-444-with-above-beyond-and-%C3%B6ona-dahl/
https://soundcloud.com/aboveandbeyond/group-therapy-444-with-above
https://www.youtube.com/watch?v=4Sv1MmBthHg